Rebecca Minkoff Minkoff Rebecca Ankle Boots 252877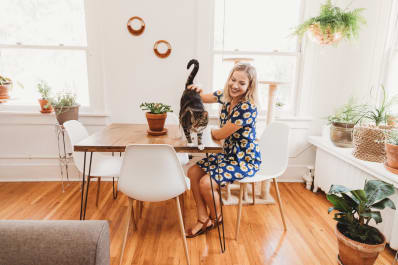 This is the brightest space in the apartment because the light from three windows converges here. The dining room table is a DIY. Of course the radiator had to become a plant shelf!
(Image credit:
Wild Bliss Photography
)
Alexandre Birman Clarita Sandals,
Name: Emilie Hebert, my cat Leo
Location: Fort Collins, Colorado
Size: 752 square feet
Years lived in: 2 months, renting
I moved to Colorado to attend graduate school, and hopefully I'll be here for awhile. I signed on the apartment before I saw it in person! I live here with my tabby Leo, who really loves to look out the windows and eat some of my plants. As soon as I moved in, we painted the walls and cabinets white. Then I arranged my furniture, covered the countertops in contact paper, built my desk and shelves, and filled the space with as many plants as possible. The apartment is about 750 square feet, which is perfect for me and Leo right now. Eventually, my boyfriend and I hope to move into a bigger place with a yard, but my little jungle home is an amazing place for me to study, work, and live.
As a food blogger, I spend a LOT of time in the kitchen. This is my favorite room in the apartment because it underwent the biggest transformation. The countertop, backsplash, and floor are covered in (believe or not) contact paper! I used a stencil to create the floor design.
(Image credit:
Wild Bliss Photography
)
What is your favorite room and why? The kitchen. The transformation from a standard rental kitchen with linoleum tile floors and beige countertops to a bright, modern kitchen with a fun patterned floor and faux butcher block countertops is truly amazing. I put in so much work for this room: contact paper on the countertops, floor, and backsplash, stenciling the floor pattern, and painting the walls and cabinets. Because I'm a food blogger, I'm in the kitchen a lot, so I get to enjoy this room very often.
This IKEA cart was such an affordable way to add more counter space in my tiny kitchen. The light from this window pours in beautifully in the morning.
(Image credit:
Wild Bliss Photography
)
I keep all of my wine and liquor on the bar cart for when I entertain (or have a long day). I keep my cookbooks on a DIY shelf above. To the left hangs a diverse female middle-finger print because, #fightthepatriarchy.
(Image credit:
Wild Bliss Photography
)
If you could magically change something about your home, what would it be? I would have south-facing windows! The light coming through those windows would be perfect for my plants.
The living space is bright and open. I chill here, eat at the dining table, and work at my DIY standing desk. The coffee table is a DIY. The faux fireplace is a beautiful centerpiece of the room!
(Image credit:
Wild Bliss Photography
)
I work from home, and this DIY standing desk is a lifesaver so I'm not sitting all day. I keep my workplace fairly clutter-free, except for plants, of course.
(Image credit:
Wild Bliss Photography
)
What's the last thing you bought (or found!) for your home? A big banana plant! I buy most of my plants from the local nursery, Facebook Marketplace, or Craigslist.
This bedroom is such a calm and serene place in which to relax. When I open my eyes in the morning, the first thing I see is my plant shelf. I love that!
(Image credit:
Wild Bliss Photography
)
Guess what the countertop is? Marble contact paper! My favorite quirks of the bathroom are the vintage medicine cabinet and the commercial toilet. A beautiful print from Stephanie Deangelis hangs on the wall.
(Image credit:
Wild Bliss Photography
)
Any advice for creating a home you love? Have a Pinterest board (secret or not) to which you can pin homes that fit your style, DIY projects, or products you may want. I even created a mood board featuring some inspo pics and a general color scheme I wanted my home to follow. I've thrifted many things in my home: wicker baskets, plants, a copper bowl I use as a planter, and so much more. Explore your local thrift store or online secondhand marketplaces; you never know what you'll find!
Thanks, Emilie!
• Interested in sharing your home with Apartment Therapy? Contact the editors through our House Tour & House Call Submission Form.